Bend, Oregon Vacation Guide
All About Bend Oregon
Some folks travel for attractions and some travel for experience - Bend, Oregon is a vacation destination to experience! There is something very special about this place, the perfect blend of arts and culture, a small-town atmosphere and a magnificently created outdoor world.
Bend is the best high-desert town in the Pacific Northwest, converted from a once small logging town to an inviting mountain getaway, where mountains meet rambling rivers and historic districts line the banks of the Deschutes River that flows so beautifully through the town. Bend is a warm and welcoming town where a smile goes a long way.
Perfectly placed on the edge of the Cascades under the volcanic peaks of the Three Sisters and Mt. Bachelor, Bend is home to majestic mountains, sparkling Cascade Lakes and two of Oregon's Seven Wonders. Combined with the historic architecture, award-winning dining, fabulous shopping, world-class skiing, epic rock climbing, and bustling breweries, Bend rightfully earns its reputation as "The mountain town that's got it all!"
---
Reasons to Visit Bend, OR
Explore the tree-lined streets and cobblestone sidewalks of Bend as they invite you on a unique journey. From the historic streets of Downtown Bend on the fringe of Drake Park, to the delightful and hip Old Mill District, the streets are abuzz with riverfront restaurants, brewpubs, quaint specialty stores, designer boutiques, chain stores and eclectic galleries displaying Bend's unique art scene.
Two vast shopping and entertainment districts are separated only by a scenic mile on the banks of the Deschutes River. Discover local talent on a First Friday's gallery walk, experience the best of culture at the historic 1950's style Tower Theatre, enjoy toe-tapping live music at an outdoor concert or cowboy up and learn to two-step. Entertain the kids inquiring minds watching raptors soar at the High Desert Museum and their active bodies go-karting through the trees at the fantastic Sun Mountain Center.
Considering there is so much to do when you visit Bend, we've highlighted a number of popular activities and attractions below to help you start planning your excursions when you arrive. From wintertime fun on the slopes to local craft beer tastings, we've got it all!
---
The Deschutes River flows right through the city of Bend and offers miles of sparkling water for the ultimate outdoor adventure. Surrounded by beautiful rugged scenery, rent an inner tube, kayak or stand up paddleboard to leisurely float the waters. For an adrenaline-pumping whitewater experience, take a tour down the Big Eddy Thriller. Oregon's first whitewater surf park, Bend White Water Park, has recently opened and is a great place to start your whitewater adventures.
Or, set up your rod and reel to discover the best local fishing holes on the lower section of the river, one of Oregon's premier steelhead and trout fisheries. Some of Bend's best fishing can be found right in front of the Riverhouse off 3rd Street. You can also head to one of the nearby Cascade Lakes to up your chances of a monster trout.
Surrounded by the Cascades and 300 days of sunshine a year, Bend is a great hiking destination. Right in the center of town is Pilot Butte, one of the only city-dwelling volcanoes in the US, with panoramic views of the desert, mountains and the city of Bend below.
Shevlin Park is another great stop for a hike with scenic trails through forest and flowers alongside the Tumalo Creek River.
Tumalo Falls is rated as one of the most popular attractions in Bend - an impressive hike favored amongst locals just 15 minutes from Downtown Bend!
To explore a little further out, head either to Mt Bachelor to brave it up to the 9,065-foot summit or 15 minutes south of Bend to the Lava Lands Visitor Center, a great base to begin your hikes.
Hike the Trail of the Whispering Pines or the more challenging Trail of the Molten Land and walk the historic paths where astronauts trained to walk on the moon at the Newberry Crater National Volcanic Monument.
Honestly, when you are in Bend, the options to explore are endless!
Bring your bike to explore our area. We're talking over 300 miles of single-track mountain biking trails! We'll start by throwing out some big-name trails like Crooked River Gorge, Smith Rock, Farewell, Mrazek and Phil's Trail. Whatever your level, there's a trail for you as scenic as the next!
The trailhead for Phil's Trail is minutes from Downtown Bend opening up to hundreds of miles of trails of all levels heading out toward Mt. Bachelor, where you can end off with a little fun at the downhill mountain bike park. There are plenty of bike stores in town, so grab a map, gear up and hit the trails in Bend.
Everywhere you look in Bend there are views! Here are our suggestions for those wanting to take a scenic drive.
Cruise on the Cascades Lakes Scenic Byway to Sparks Lake, the Twin Lakes, Elk Lake and Cultus Lake for breathtaking views and great hiking trails to explore.
You will need a good two hours to visit Crater Lake National Park, the deepest lake in the US, and you are so close to two of Oregon's Seven Wonders, so if you have the time they are a must!
Experience two of the spectacular Seven Wonders of Oregon only a short drive from Bend. Smith Rock, widely recognized as the birthplace of modern American sport climbing, draws thousands of visitors from around the world to test the cutting-edge rock climbing routes that challenge even the best of climbers. The crazy at heart walk a tight-rope from Smith Rock to Monkey Face, a free-standing 400-foot high spire. Crazy but true!
Breathtaking basalt cliffs tower gloriously above the scenic meandering Crooked River below. Venture along the marked pet-friendly trails leading you through one of Oregon's most iconic natural areas, where golden eagles and prairie falcons fly overhead. In a land as beautiful as this, remember to leave only footprints and take away only memories.
History unfolds before your eyes in layers, one color at a time at the Painted Hills. One of the three units of the John Day Fossil Beds National Monument, the Painted Hills display vibrant hues of reds, golds and greens on the unique arid terrain, an artist's palette said to be 33 million years old.
There are four short trails all offering spectacular views of the vibrant landscape constantly changing with the passing clouds. Approximately a two hour drive from Bend this is a great trip for an afternoon when the colors display themselves magnificently with the slowly setting sun.
Another of Central Oregon's unique geological wonders are the hundreds of lava tubes formed thousands of years ago that today, snake their way beneath the desert floor. The Lava River Caves are the only caves open to the public, the easiest to explore and great for kids.
There are hundreds more, however, and Wanderlust Tours are the only guides approved to take you into these private caves deep in the National Forest for a unique, once-in-a-lifetime caving tour (or Spelunking as the professionals call it).
Bend has many beautiful parks for a little time-out. Walk the paths through the giant Ponderosas alongside Mirror Pond in Drake Park, watch the kids burn off steam on the playground at Harmon Park, picnic in the rose garden at Pioneer Park or continue along the river trail to bird-watch at Sawyer Park!
Another great gathering place along the river is the beautiful Riverbend Park, a popular spot for those exploring the waters. Catch some sun rays on the sandy beach or walk the path to the Old Mill District for a little shopping.
Bend is awesome, but there is a whole universe out there! The Universe is infinite, and thanks to Bend's minimal light pollution, you can be part of an out-of-this-world experience as you gaze through a telescope into the vast night skies.
Head out to The Oregon Observatory in Sunriver or The Pine Mountain Observatory and download a stargazing app just for fun! You won't be disappointed.
With Bend's enviable climate, golf can be played almost 365 days a year and the area has plenty of rated golf courses for players of every skill level to suit every budget. The Central Oregon Golf Trail features more than two dozen courses in the Bend and Sunriver area, three of them ranked by Golf Digest and Golf Magazine in the Top 100 public courses in the nation.
The most recognized being the beautiful Nicklaus designed Pronghorn Golf Club, Crosswater at Sunriver Resort, the bold and dramatic high-desert Tetherow Championship Course and The Widgi Creek Resort which meanders among the pines along the rim of the dramatic Deschutes National Forest. The family-run Aspen Lakes in the nearby village of Sisters is a beautiful and challenging course promising a unique playing experience.
The majestic snow-capped peaks of Mt. Bachelor are in the perfect location for world-class skiing, receiving the first and last snowfall in the Pacific Northwest. Consistently topping Ski Bibles' lists of the finest peaks in the Northwest, Mt. Bachelor sits at the 5th largest ski area in the country with over 3,700 acres of lift-accessible terrain boasting spectacular views of towering peaks and scenic cascade lakes below.
Mt. Bachelor is the perfect winter wonderland with over 165 miles of Nordic trails winding their way through the Deschutes National Forest, freeskiing and a ski school for the kids, snowmobiling, dog sledding, and inner-tubing. Why ski anywhere else? If you fancy a bit of night skiing, Mt. Hoodoo is an hour drive away with miles of cross country and snowshoe trails and the largest tubing park in the west, The Autobahn.
Bend has a startling abundance of award-winning, world-class breweries, distilleries, and wineries. Dubbed "Beer Town USA" by the Boston Globe, Bend is particularly known for its expansive craft beer scene.

We'd recommend starting your Bend beer adventure on the Bend Ale Trail™. If that doesn't satisfy the taste buds, explore our three distilleries, three cideries, four wineries, and the kombucha brewery! If you start your tastings in Downtown Bend, you'll find more than two-thirds of our breweries are within walking distance. If you venture out, be sure to leave the driving to someone else (be it a taxi, private bus or horse-drawn carriage!).
---
When to Visit Bend OR
Bend Oregon offers beautiful scenery and rather mild weather throughout the year though when in the mountains it's always variable.

Summer brings warm days great for outdoor activities and evenings are cool. Winter is typically wetter, cooler and snowier, especially in the mountains! Fall and spring are to die for, with moderate temperatures you'll be comfortable morning and night.
Browse & Book Bend Vacation Rentals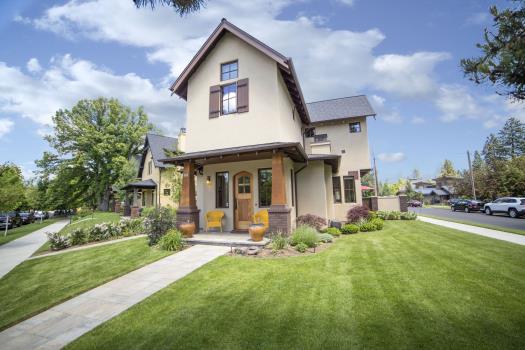 So what are you waiting for? Begin your Bend experience the right way, simply browse our full portfolio of vacation rentals, select and book online.

We look forward to sharing your Bend experience with you and Alpenglow Vacation Rentals welcomes you to this world-class vacation destination we call home!