Bend, Oregon Vacation Guide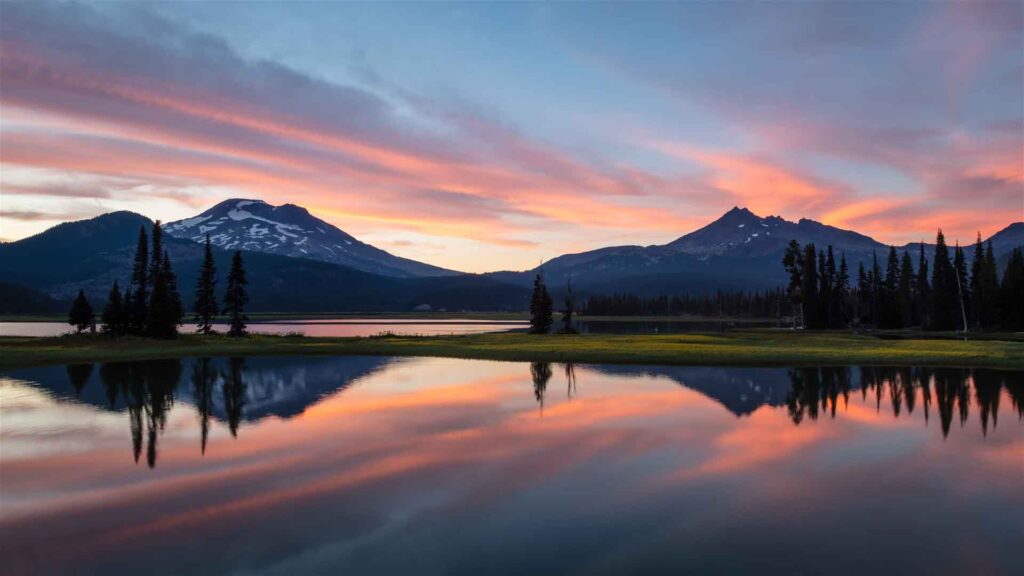 All About Bend Oregon
Some folks travel for attractions and some travel for experience – Bend, Oregon is a vacation destination to experience! There is something very special about this place, the perfect blend of arts and culture, a small-town atmosphere and a magnificently created outdoor world.
Bend is the best high-desert town in the Pacific Northwest, converted from a once small logging town to an inviting mountain getaway, where mountains meet rambling rivers and historic districts line the banks of the Deschutes River that flows so beautifully through the town. Bend is a warm and welcoming town where a smile goes a long way.
Perfectly placed on the edge of the Cascades under the volcanic peaks of the Three Sisters and Mt. Bachelor, Bend is home to majestic mountains, sparkling Cascade Lakes and two of Oregon's Seven Wonders. Combined with the historic architecture, award-winning dining, fabulous shopping, world-class skiing, epic rock climbing, and bustling breweries, Bend rightfully earns its reputation as "The mountain town that's got it all!"
---
Explore the tree-lined streets and cobblestone sidewalks of Bend as they invite you on a unique journey. From the historic streets of Downtown Bend on the fringe of Drake Park, to the delightful and hip Old Mill District, the streets are abuzz with riverfront restaurants, brewpubs, quaint specialty stores, designer boutiques, chain stores and eclectic galleries displaying Bend's unique art scene.
Two vast shopping and entertainment districts are separated only by a scenic mile on the banks of the Deschutes River. Discover local talent on a First Friday's gallery walk, experience the best of culture at the historic 1950's style Tower Theatre, enjoy toe-tapping live music at an outdoor concert or cowboy up and learn to two-step. Entertain the kids inquiring minds watching raptors soar at the High Desert Museum and their active bodies go-karting through the trees at the fantastic Sun Mountain Center.
Discover the fantastic views from the top of some of the most popular mountains near Bend, Oregon. The mountains around the area are a part of the Cascade Mountain Range, which most consider the most beautiful mountain range in North America! Read more about the Cascade Mountain Range and all the outdoor recreation activities you can partake in on the various mountains and peaks.
Considering there is so much to do when you visit Bend, we've highlighted a number of popular activities and attractions below to help you start planning your excursions when you arrive. From wintertime fun on the slopes to local craft beer tastings, we've got it all!
---
Browse & Book Bend Vacation Rentals