Bend Oregon Weather

Welcome to Bend, Oregon, where Mother Nature puts on a spectacular weather display year round. Nestled in the heart of Central Oregon and the Cascade Mountain Range, this charming city boasts a climate as diverse as the landscapes that surround it. Whether you're planning a winter escape to hit the slopes of Mt. Bachelor and take in the crisp fresh air or a summer adventure exploring the Deschutes National Forest, understanding Bend's ever-changing all-year weather patterns is essential for making the most of your vacation rental experience.
BEND WEATHER
Four Seasons of Bend Weather
Being near the mountains things can change in an instant, all year-round. Bend's weather is a true testament to the Pacific Northwest's reputation for variability. With four distinct seasons, each offering its own unique charm, it's no wonder this destination draws visitors year-round.
Winter Wonderland
When the snow starts to fall, Bend transforms into a winter wonderland that beckons skiers, snowboarders, nordic and snowshoers alike. The star of the show during this season is undoubtedly Mt. Bachelor, one of the largest ski resorts in the Pacific Northwest and 6th overall in North America. Expect copious amounts of snowfall, creating pristine slopes and a magical winter ambiance. Whether you're carving through fresh powder or cozying up by the fire in your vacation rental, Bend's winter promises unforgettable memories.
Bend experiences on average during the winter months of the year high temperatures typically ranging from the mid-30s to low 40s Fahrenheit. However, it's not uncommon for temperatures to drop below freezing during the day, especially in December and January. Nighttime lows can be quite chilly, often falling into the low teens to mid-20s Fahrenheit. On the coldest nights, temperatures can even dip below zero Fahrenheit. It also gets approximately 30 to 40 inches of snow over the winter season.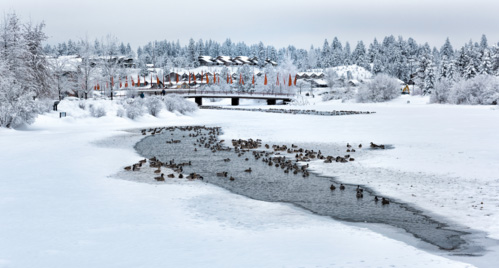 Blooms of Spring
As winter transitions to spring, the city bursts into life with vibrant colors and budding flora. March to May brings milder temperatures and the emergence of wildflowers throughout the region. This is the ideal time to explore the numerous hiking and biking trails, kayak down the Deschutes River, or simply take a leisurely stroll through the charming downtown area.
Daytime highs typically range from the upper 50s to the mid-60s Fahrenheit as the season progresses. However, early spring can still have some cooler days, with highs in the 40s and 50s. Spring nights in Bend can still be chilly, with nighttime lows ranging from the mid-20s to the mid-30s Fahrenheit. While spring in Bend generally brings pleasant weather, it's important to note that the weather can still be variable, with occasional rain showers or even late-season snowfall in March and early April. Be prepared for changing conditions, especially if you plan outdoor adventures.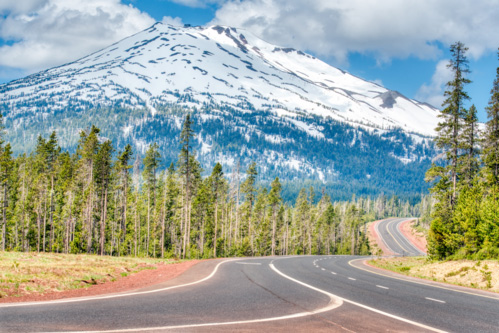 Sunny Summers
Summers in Bend are synonymous with endless sunshine, making it a mecca for outdoor enthusiasts. The warm and dry climate from June to August is perfect for golfing, rock climbing, and water activities. Additionally, the city hosts numerous festivals and events that showcase its vibrant culture. With long daylight hours, you'll have plenty of time to soak up the sun and experience all that Bend has to offer.
Daytime high temperatures typically range from the mid-70s to mid-80s Fahrenheit. However, it's not uncommon for temperatures to occasionally reach into the 90s Fahrenheit, especially during heatwaves. The nights in Bend are generally pleasant, with lows ranging from the mid-40s to mid-50s Fahrenheit. This means that evenings can be comfortable for outdoor activities and dining outside.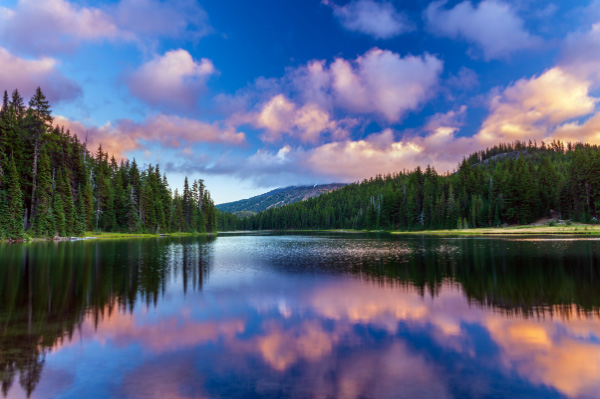 Fall's Fiery Splendor
As autumn arrives, Bend's landscape is set ablaze with the rich colors of changing leaves. September through November provides a breathtaking backdrop for hiking and mountain biking in the nearby Cascades and navigating the scenic byways. The cooler temperatures also invite you to savor seasonal brews at the city's renowned craft breweries or indulge in farm-to-table dining experiences.
The highs typically range from the mid-60s to mid-70s Fahrenheit early in the season, but as fall progresses, temperatures begin to drop. By late fall, you can expect highs in the 50s. Nights become noticeably cooler, with lows ranging from the 20s to 30s Fahrenheit. Bend also experiences occasional rain showers in the fall, especially as the season progresses. It's a good idea to be prepared for changing weather conditions and have rain gear on hand if you plan to spend time outdoors.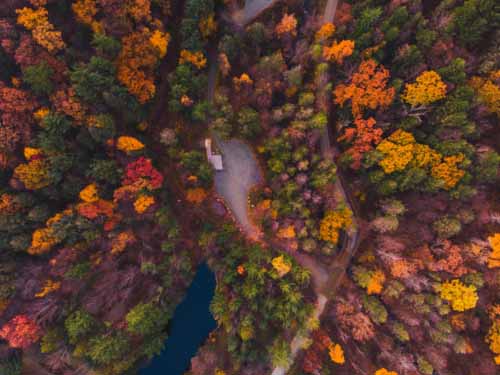 How to Pack for Bend & Tips for Weather-Wise Vacation Planning
To ensure your Bend vacation is a resounding success, here are a few tips for navigating the city's diverse weather:
Pack Accordingly: Layers and with diversity are your friend. Bend's temperature can fluctuate throughout the day, so be prepared for both warm afternoons and chilly evenings. Wool socks, thermal layers, and winter accessories are a must from November to March. Summertime definitely calls for shorts, sundresses, and comfortable light clothing but be sure to always have a sweater handy.
Check the Forecaststrong>: Keep an eye on the weather forecast leading up to your trip. This will help you plan activities and pack appropriately.
Plan for Rain and Shine: In the Pacific Northwest, it's always wise to carry a rain jacket or umbrella, even in the sunniest season.
Stay Flexible: Bend offers something for everyone, regardless of the weather. If your outdoor plans are thwarted by rain or snow, explore the city's vibrant indoor attractions, including museums, art galleries, and local shops.
Weather Resources: