Winter in Bend Oregon
Winter in Bend Oregon is magical! It offers fantastic weather that averages around 43F, 9.5 hours of daylight, and 33.8 inches of snow in town. The surrounding mountains get about 30 feet of snow per year, providing amazing winter conditions for outdoor recreational activities of all kinds. Bend winters always attract outdoor lovers and thrill-seekers interested in skiing, snowboarding, snowshoe/hiking, fat tire biking, snowmobiling, and when the conditions are right even ice climbing.
Downtown Bend offers fabulous restaurant options, amazing breweries, unique shopping, music, and in February it holds Winter Fest. Come for the holidays, come for ski season, or just come to relax and unwind, we have all the best things to do in Bend in the winter. Find your warm winter getaway and snuggle up downtown or stay closer to the lifts at Mt Bachelor Village.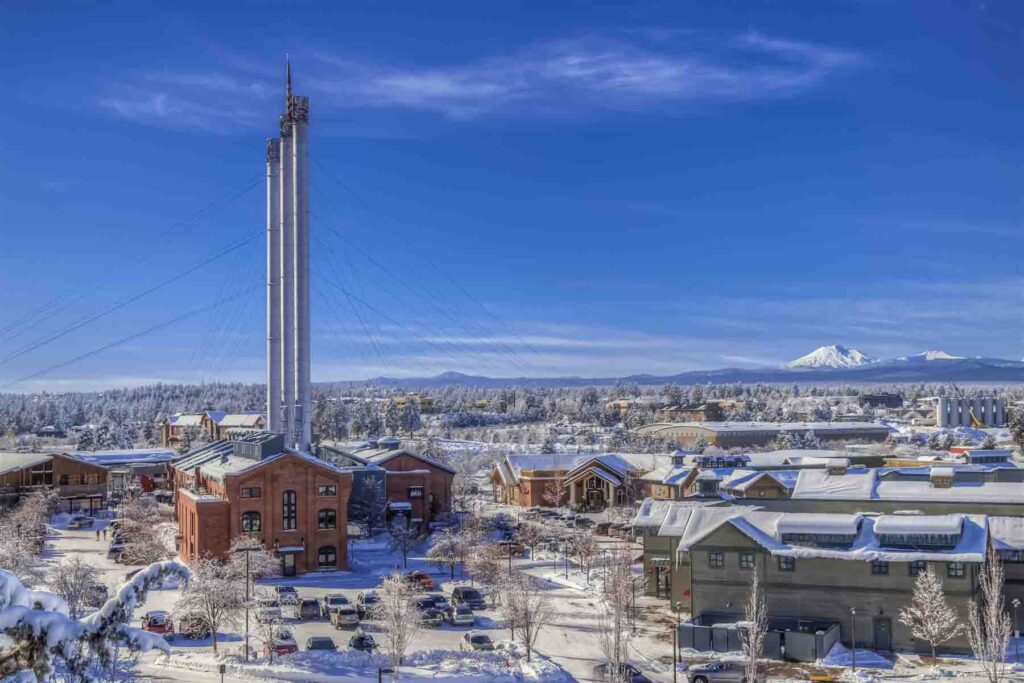 Winter Vacation Planning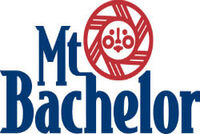 Mt. Bachelor Village
Stay close and get untouched powder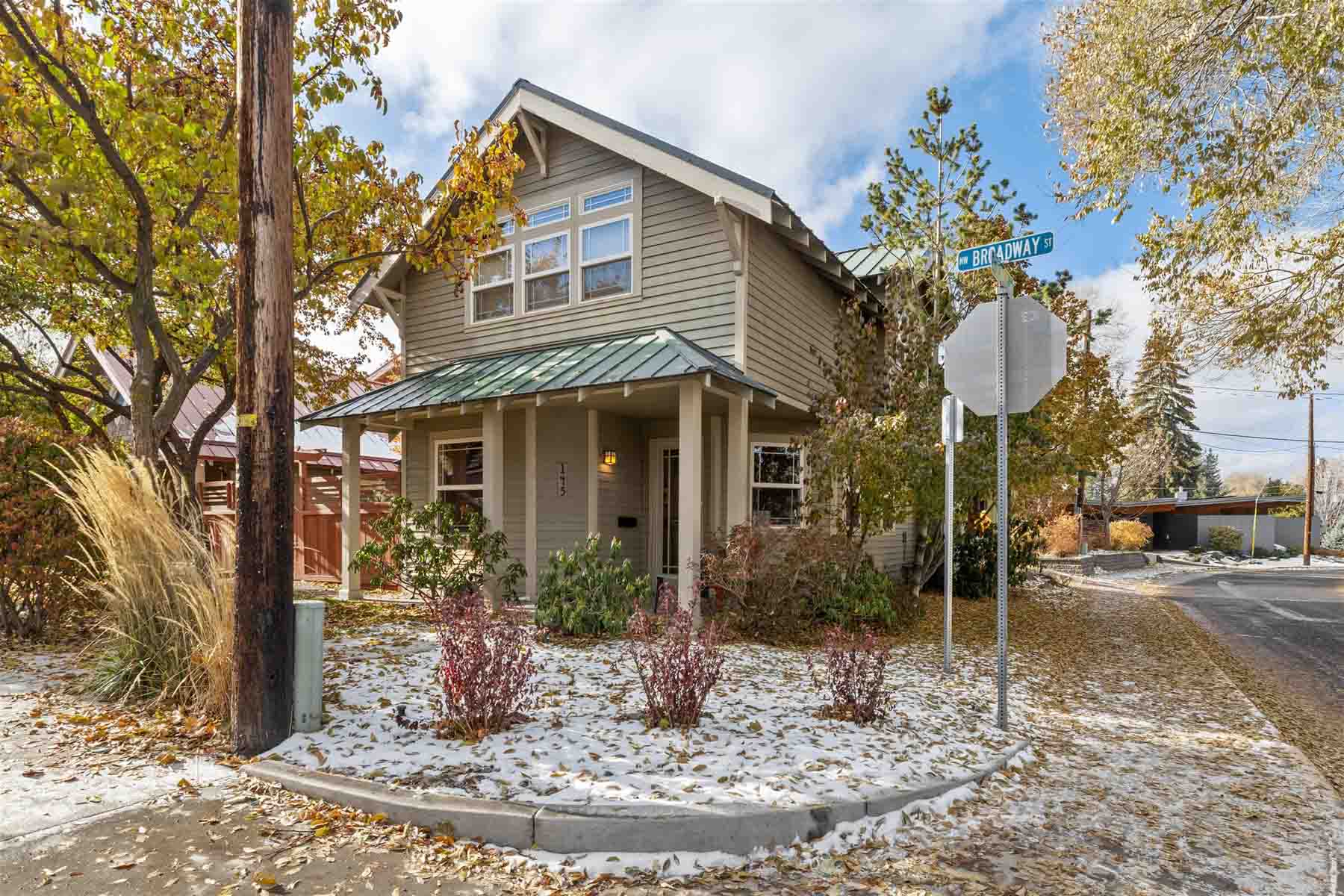 Downtown Bend Rentals
Stay in "the heart of Bend" close to the action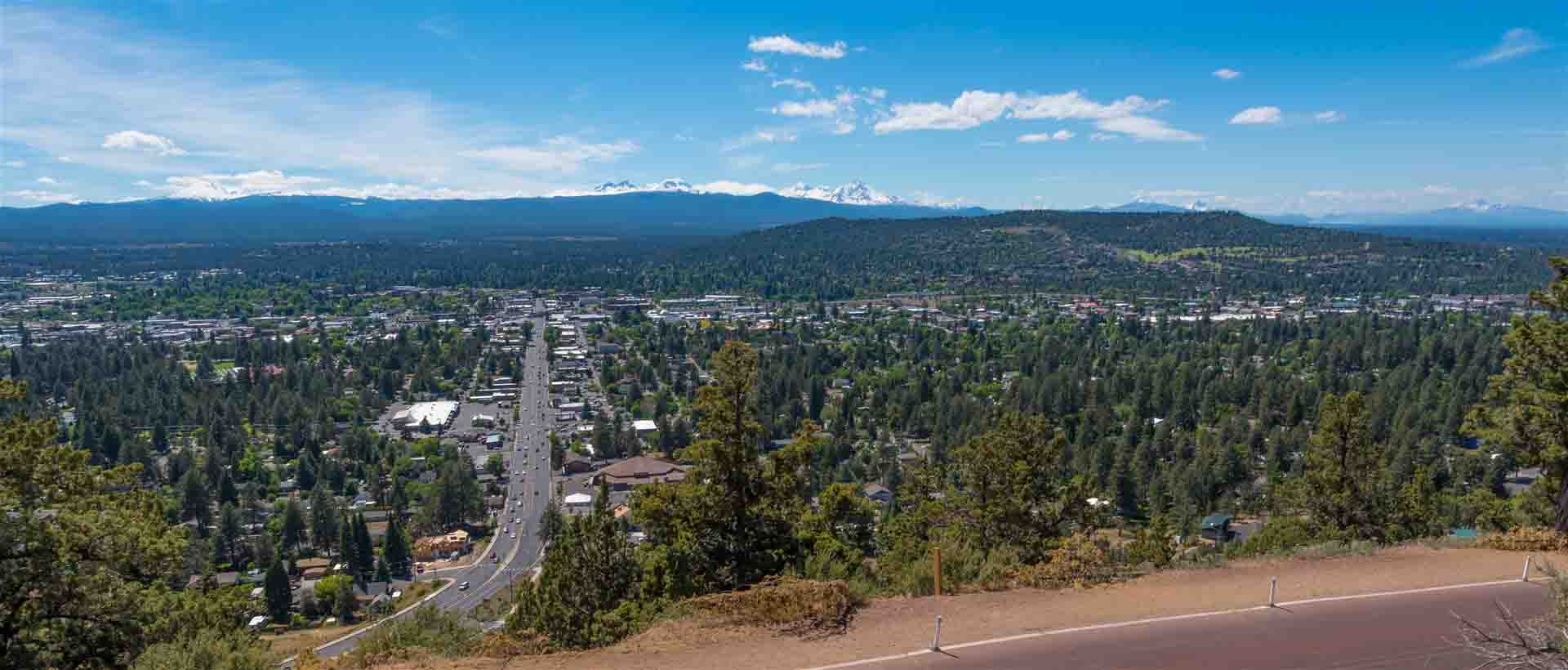 Guide to Bend OR
Plan your visit to Bend Oregon
Best Things to Do in Bend in Winter
Discover Bend Oregon in a new light with Fat Tire bike trails. Bend has always been a great choice for mountain bikers and now with a fat bike in the winter you can see all those mountain views, dense forests, and winding rivers dusted with glittering magical snow and ice. Don't have a fat bike or want to try one? Check out the local bike rental shops.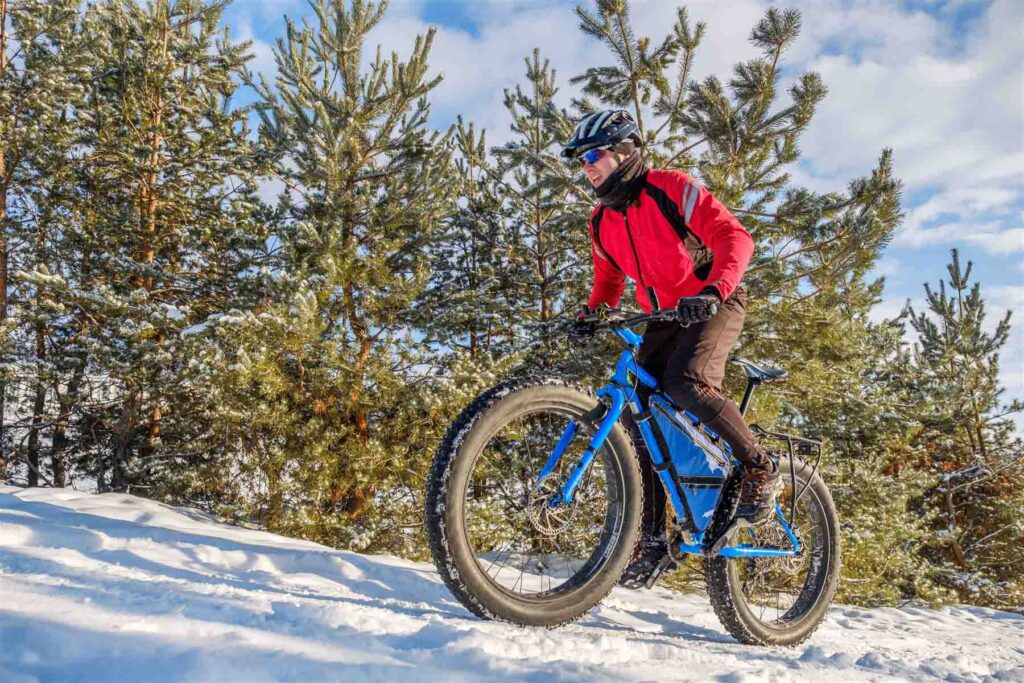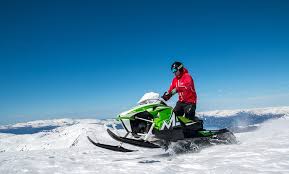 With well over 250 miles of trails into the backcountry gleaming with open snowfields and amazing old-growth pine trees there is nothing more exhilarating than blasting across the untouched snow on a snowmobile. For those who prefer more site seeing and less adventure there are also extensive groomed trail systems near Mt Bachelor and out-lying areas. Don't have your own snowmobile to ride around Bend? Book a snowmobile tour or rent a machine with one of our local companies for a winter experience you won't forget!
Hit the slopes of Mt. Bachelor with your skis and/or snowboard and enjoy its 101 runs spread out over 4,323 skiable acres. While skiing or riding Mt Bachelor check out the Peace Park by Woodward which offers unique mountain park zones that emphasize flow, style, and the use of natural terrain for its features.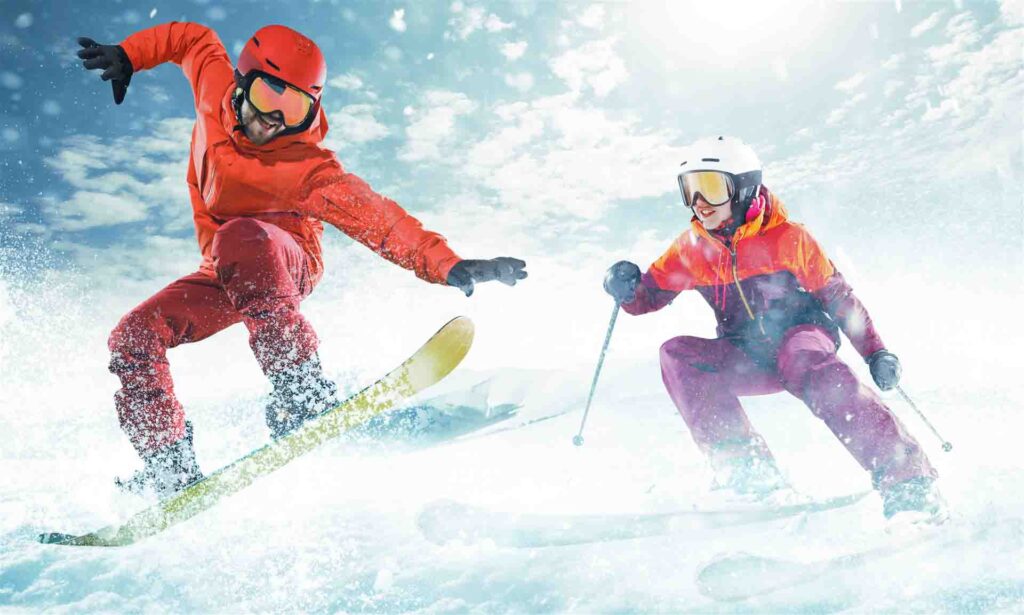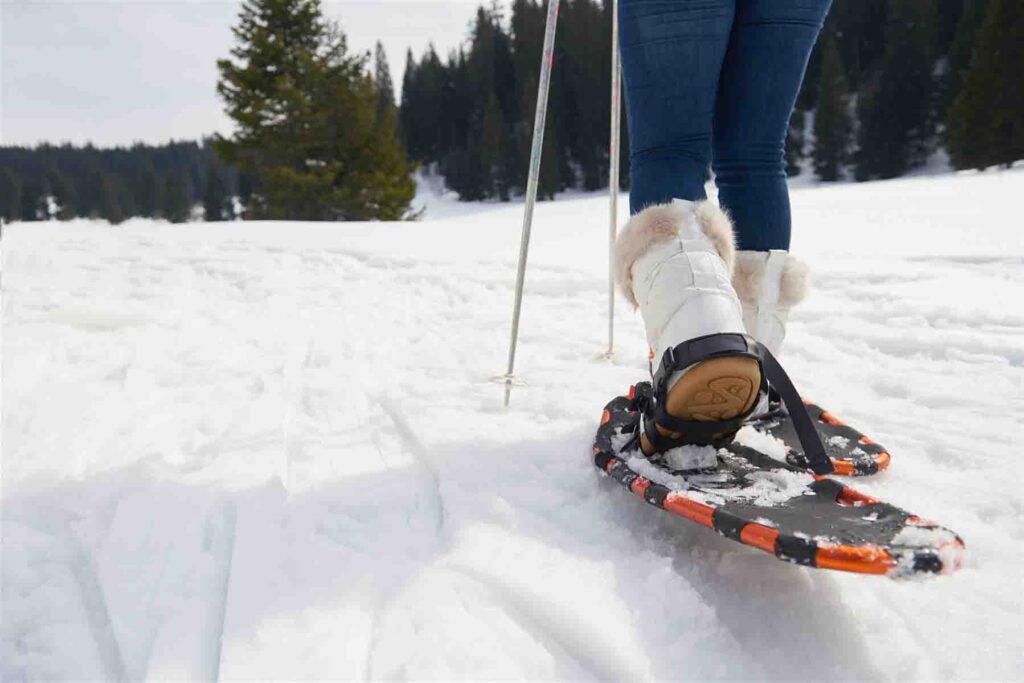 If you're looking to have a quiet, peaceful time in the snow then we recommend you check out snowshoeing. With one of the best things to do in Bend in the winter, snowshoeing is great for all ages and abilities! Bring the kids, grandparents, and even fido.
Mt Bachelor is home to nearly 56 km of Nordic trails that wind through Deschutes National Forest and offer a trail level to accommodate a variety of skill sets. From double diamonds to beginner there is something for everyone. Need rentals or a lesson, check out the Mt Bachelor Nordic Center. Want to experience more of the cross-country skiing options in the area, Virginia Meissner offers 30 km of trails that weave into the Swampy Lakes Sno-park and include an entire system of warming huts for guests to enjoy.
Interested in dog-friendly groomed trails checkout the Wanoga Snow-park or ungroomed areas at Skyliner, Edison, and Kapka Butte Sno-park. If you love Nordic skiing then visit us for a winter in Bend! More Nordic & Cross-country Info.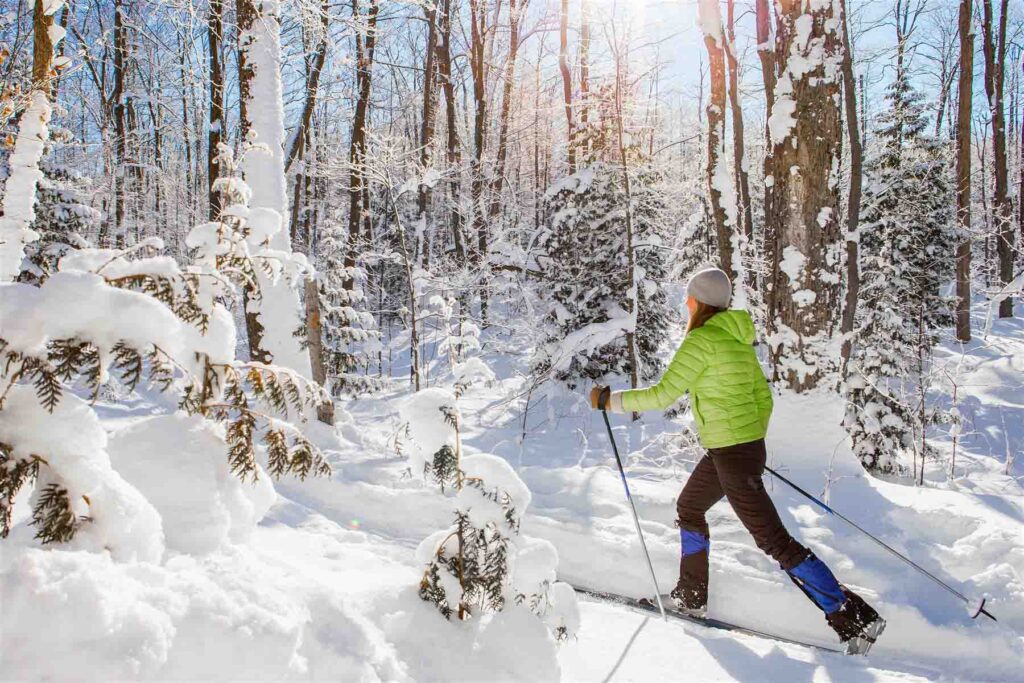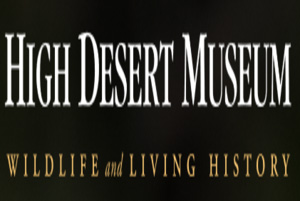 If you're looking for a warm winter adventure, one of our favorite indoor things to do is a visit to the High Desert Museum. The museum brings regional wildlife, culture, art and natural resources together to promote an understanding of heritage of North America's high desert country. With amazing indoor exhibits, along with some outdoor exhibits that include animals, the High Desert Museum offers great kids programs and educational talks that can keep the whole family engaged for hours. Check out the Deschutes River Woods area for great nearby lodging.
Want to experience music, ice sculptures and carvings, delicious food and drinks from around the region, and a fire pit competition? Then check out the Oregon Winter Fest typically held annually over three days at the Deschutes County Expo Center in mid-february. This year the event is scheduled to start on Friday, February 18th, 2022 at 5:oo pm! Get all the details here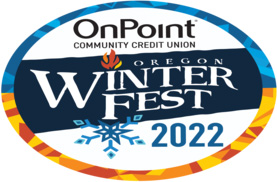 Oregon Winter Getaway
There is nothing like a Bend, Oregon winter vacation and one that you will remember for years or, even better, will have you coming back year after year! What's even better is if you are looking to have a big ski trip with friends or want to have your next big family outdoor adventure in Bend? Look no further as Alpenglow has beautiful & amazing four-bedroom Vacation rentals that can accommodate up to 10 people per property.
Plan a Bend Winter Vacation Today!
Bend is a fantastic and breathtaking place in winter with great weather, loads of snow, and endless adventures to discover and explore. Grab your long underwear and winter jacket to come see the magic for yourself! To help with planning your Bend winter vacation we have a helpful guide to ensure you get the most out of your trip as well as a guide to public transportation in Bend & Mt Bachelor.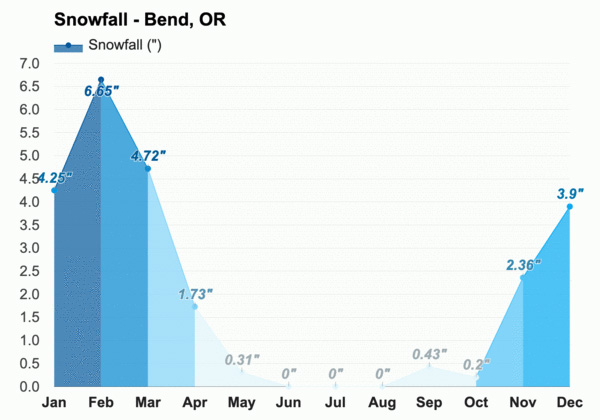 Data & Chart from weather-us.com
Winter Vacation Rental Homes & Condos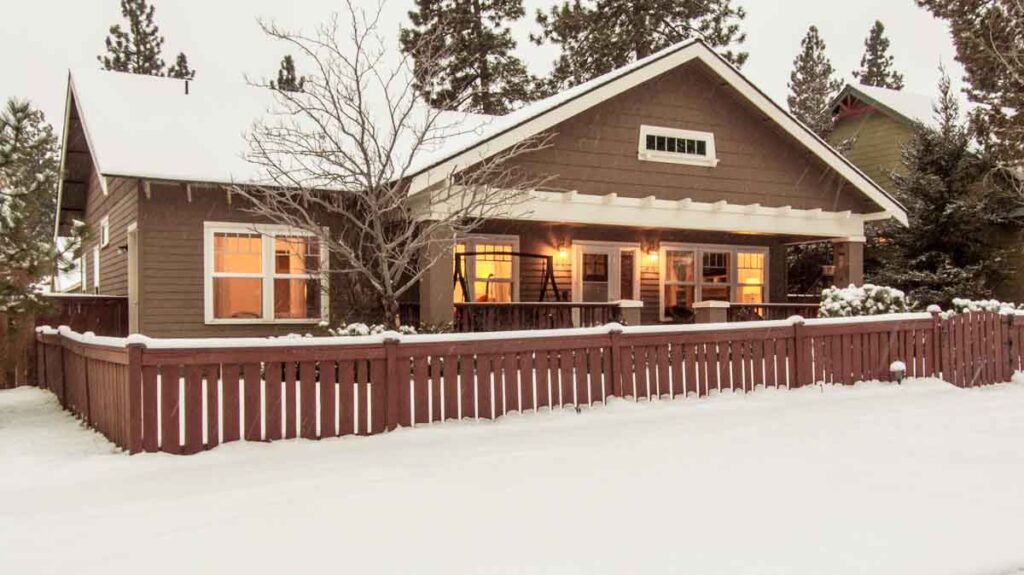 Discover the perfect winter vacation rental in Bend, OR with Alpenglow Vacation Rentals. We specialize in detailed, local service, experienced at helping guests find the best rental at the right price to meet their vacation needs. We offer great winter rentals with a hot tub, making for the perfect home base during a warm cozy winter visit. Book today for the best rates and availability.