Mt. Bachelor Resort & Lodging
There is so much to do, see and explore on your next trip to Bend and though many come to ski and snowboard at Mt Bachelor Resort in the winter, it is a ton of fun all year round! With fun summertime activities like zip-lining and downhill mountain biking the thrills are endless!
The 6th largest ski resort in North America, Mt Bachelor has over 4,000 skiable acres, 3,365 feet of vertical drop, and over 100 runs to enjoy! Start planning your trip to Bend Oregon today, there is a unique experience to be had for everyone!
---
Known for its downhill snow sports prowess, Mt Bachelor Resort is a winter wonderland for skiers and boarders alike. With a wide variety of terrain and a variety of other winter activities, there is something for everyone to enjoy at Mt Bachelor this winter.
Experience the Cloudchaser lift, which gives you access to the other side of the mountain, or check out the tubing, dog sled rides, snowmobiling, snowshoeing, they even have nordic skiing. There is plenty to enjoy at Mt Bachelor Resort!
As much fun as can be had in winter, just as much if not more can be had in summer! Wither numerous on-mountain activities like disc golf, hiking, and scenic chairlift rides there are so many ways to take in these beautiful mountains. Don't forget downhill mountain biking too! Central Oregon is known for its awesome mountain biking and the Mt Bachelor's trails system is no exception!
The Resort offers lift access to 13 miles of downhill trails in addition to Central Oregon's 300+ and growing single-track trails. Bikers can access trails from both the Sunshine Accelerator and Pine Marten Express; each leads to beginner and expert downhill trails. You can bring your own equipment or rent onsite, we have everything you need to have a safe and exciting biking excursion. There is also a repair shop on-site should you need technical assistance with your rig.
Woodward is a global experiential action sports company on a mission to inspire the next generation of action sports athletes. With national and international locations across the United States and in Mexico, as well as a local branch for Bend and Mt Bachelor, Woodward is an epic attraction known throughout the world. Recently, Woodward expanded here at Mt Bachelor and added the only Woodward Mountain Park in the Northwest. The Peace Park is a unique mountain park zone that emphasizes flow, style, and the use of natural terrain as its features. It boasts 15 terrain zones that offer a progression experience for all levels of skiers and riders; from entry-level to intermediate, and up to some impressive advanced level challenges, there is a path to learning for anyone. Of course, Woodward has also included two whopping 22-foot halfpipes!
If the cold and snow are not your thing that's ok as Woodward aims to elevate core skills amongst athletes in a wide variety of sports like skateboarding, BMX, MTB, scooter, parkour, gymnastics, cheer, dance, digital media, and much more!
Discover Woodward Mt. Bachelor
Designed for progression, Woodward is the place to learn and grow when it comes to action sports. With safety and fun at the forefront, balanced with lessons designed to provide innovative ways to teach, learn, coach, progress, and win, Woodward is an amazing environment for everyone. Whatever your passion, check out Woodward Mt Bachelor to learn more!
The IKON Pass has come to Mt Bachelor! Check out the different pass choices offered by IKON. These passes range from a simple 4-day pass (where you choose four days of skiing or riding at up to four unique destinations) to the virtually unlimited IKON pass (where you gain access to 44 different destinations worldwide, 15 destinations with unlimited access and you get 7 days each at 28 destinations worldwide, no blackout dates). Find your perfect pass today and let the snow and amazing times begin.
---
Mt Bachelor Dog Park
We invite you to bring Fido to Mt Bachelor too! The resort boasts a large off-leash dog park perfect for your pooch to meet new friends and expend their energy. Groomed in the winter, dogs will have plenty of space to run, sniff and play while visiting Bachelor.
Please be sure to respect the space and clean up after your pet. Pet waste bags are available on-site for your use and disposal. Be sure to check out our pet-friendly rentals also perfect for Fido!
---
Mt Bachelor Lodging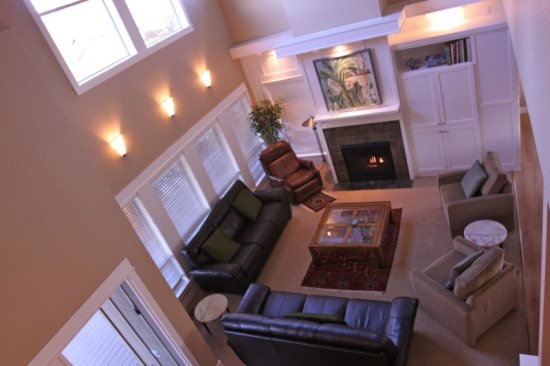 If you are planning to spend a lot of time near Mt Bachelor on your next trip to Bend, consider a nearby vacation rental for the ultimate convenience. After a hard day on the mountain, there is nothing better than to kick back in your own vacation home or condo and maybe even relax in a private hot tub.
Alpenglow Vacation Rentals is proud to offer several Mount Bachelor lodging options that are just a short drive to the mountain or steps from the Mt. Bachelor Ski Resort Shuttle! A selection of our vacation rentals are located in and around the beautiful Mount Bachelor Village Resort and are packed with the amenities of home, come with stunning views, and are close to Downtown Bend.
The other great thing is that you can bring the entire family, including your pets! The Mount Bachelor Village Resort is a perfect ski vacation neighborhood with a large community hot tub, quick access to snowshoe, snowmobiling and Nordic ski trails, and on-site dining.
So what are you waiting for? Pack up your winter or summer gear and come vacation with us in beautiful Bend! We look forward to seeing you at Mt Bachelor Resort!