Featured Vacation Rental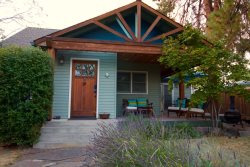 NEW LISTING! Downtown Pet Friendly Bend Oregon Vacation Rental Hot Tub Fenced Yard Sleeps 5
Common Questions about Alpenglow Vacation Rentals Homes
How do I use this website?

Its as Easy as 1-2-3!

1. Search Rentals, Enter your desired dates
2. Check the boxes to Compare Homes
3. Click on the Yellow "Book It Now" tab and reserve your rental of choice!

Need Help? Please call us at either 541-385-7100 or 1-877-437-5957

Lodging Tax Increase goes into effect in stages as follows:

Effective July 1, 2014: Deschutes County, 8%

Effective June 1, 2015: city of Bend, 10.4%,

State of Oregon, 1%


How do I check in?

You will be given a code to open a lock box. The location and code of the lock box will be provided via email five days prior to your arrival along with your driving directions to the home as well as the check in and check out rules provided your balance is paid in full.

What is "Vacation Rental Damage Insurance"? I have never heard of this!

Security Deposit Insurance is a new concept, non-refundable, $69 per RESERVATION, not per day and offers up to $3000 accidental damage insurance in case anything were to happen, spilled red wine on carpet, etc. (just an example) It also means that the guest doesn't fork over $500-$1000 prior to arrival to rent a home as well and no waiting up to 14 to 30 days to get your deposit back. If the home you are renting accepts pets, and you have declared that you are bringing a pet, any pet-related accidents are covered as well. Please see more on this under our Terms & Conditions http://www.alpenglowvacationrentals.com/terms-conditions.asp for a full definition of Security Deposit Insurance.

Are Pets Allowed?

Yes. Dogs are permitted in pre-approved designated pet friendly homes with prior approval and pet rent of either $10 to $15 per night.

Sorry, no cats!

What are the check in check out times?

Check out time is 11 a.m., and check in time is 4 p.m. There is a $50 late fee imposed for late departures of more than 15 minutes that will be charged to your Discover, Visa or MasterCard that you provided at reservation time.

How do I make a reservation?

Please feel free to contact us at 541-385-7100 if you would like assistance or prefer speaking to a reservationist or just make an instant reservation easily by 1) selecting your Travel Dates, 2) either or all of the following options: Amount of Bedrooms or Guests, 4) Availability, 5) Selecting Unit. Or simply selecting Availability, Compare or Calendars options. To complete reservation, just follow the prompts. At any time if you would like assistance, have questions or would like us to complete the process for you, just call us, we would be happy to help!

Is booking online secure?

Yes, we use a DigiCert SSL Secure key to ensure that all transactions are made in a secure environment and we never share any of your information, at any time.

What is supplied in the home?

All vacation homes are fully stocked with a one-time set up with linens, towels, pool towels, two rolls of toilet paper per bathroom, 1 roll of paper towels, dishwasher detergent, hand soap, liquid dish soap, shampoo, conditioner, bath gel, hair dryers in each bathroom. Washers, dryers (except otherwise noted) and fully equipped kitchens including light spices and plenty of dinnerware, flatware and cookware.

All vacation properties are equipped with washers and dryers (unless otherwise noted), laundry detergent, dryer sheets, iron & ironing board.

All vacation homes have WiFi and cable (ranging from basic to extensive, depending on vacation rental) and is an amenity. Please note that in the event of a power outage, electric storm or any other circumstance that temporarily or for the duration of your stay may be interrupted and does not warrant a refund or credit at any time.

What do I need to bring?

Your clothes, groceries, toys and happy vacation faces!

Is daily housekeeping service available?

Mid-Week cleanings are available for an extra fee, designated on your home of choice. We will do the best we can to accommodate your request to provide you with excellent customer service!
The City of Bend has a Noise Ordinance that is to be adhered to according to 5.50.025 Prohibited Noises with special attention to Section B.
which prohibits:
"Any yelling, shouting, hooting, whistling, singing or other human-produced noise that is unnecessarily loud. [Ord. NS-2201, 2013; Ord. NS-2188, 2012; Ord. NS-2142, 2010]"
During the hours as stated below
5.50.015
E. Daytime is any time between the hours of 7:00 a.m. and 10:00 p.m.
F. Nighttime is any time between the hours of 10:00 p.m. and 7:00 a.m. of the following day.
Please note that the City of Bend Police can and in some cases will issue a noise violation citation in the amount of $650.
The homes that you stay in are in a residential neighborhood, and we would like our residents as well as our guests to enjoy the City of Bend.